The Lyceum in the USA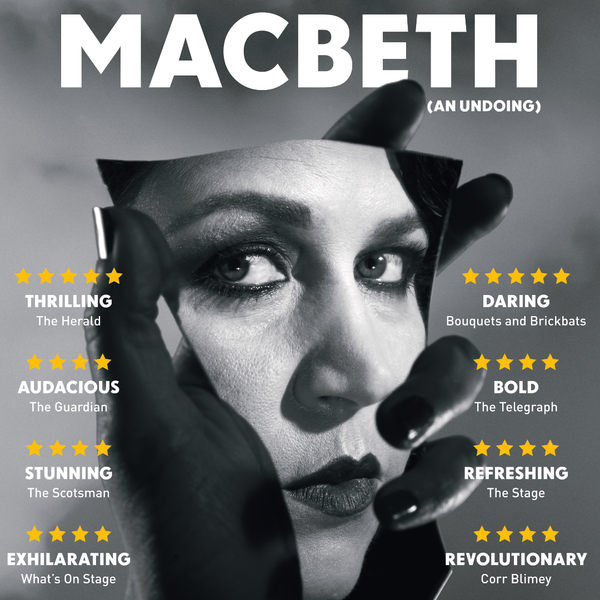 Lady Macbeth is coming! And she is determined to tell her tale.

This five star award-winning production is travelling to New York from Scotland in April 2024. This is only the starting point of our journey; we have grand ambitions to tour throughout the US in theatres and festivals and we'd love for you to support us on our way.

Macbeth (an undoing) is a vibrant, bold and feminist re-telling of Shakespeare's tragedy. Written and directed by Zinnie Harris, it has already played to sold-out audiences in Scotland and wowed the critics with its visual inventiveness and audacity.
Join Us! Three ways you can help:
Buy Tickets! – We would love to see you in New York. Select Buy Tickets below to be directed to the Theatre for a New Audience website (available from 1 December 2023).

Give Cash! – We've partnered with Chapel & York so you can support our cause. Select Royal Lyceum Theatre Company from the drop down menu.

Get involved! – If you want to discuss sponsorship opportunities or make a donation that requires more information (securities, donor advised fund, etc.) then email Annemarie Devlin, Director of Development.
Macbeth (an undoing) is a retelling of Shakespeare's most famous tragedy told from a point of view we rarely ever hear! This vibrant, bold, feminist re-telling harnesses the power of Lady Macbeth, exploring her life, her dreams and ultimate downfall. Ruthlessly ambitious, her unstoppable pursuit of power transforms into heart-breaking madness. By putting Lady Macbeth at the heart of the tale we dare to ask: have we really heard the whole story?

This is your opportunity to bring this five star, world class production to new audiences in the USA. By investing in the touring production of Macbeth (an undoing) we unleash the passion created in Macbeth's homeland of Scotland to American audiences. That passion, created firstly by Shakespeare and thereafter adapted by multi-award-winning playwright and director, Zinnie Harris, this exhilarating new version of Macbeth, dramatizes Shakespeare's tragedy from Lady Macbeth's viewpoint.

'Clever, heartfelt and, in the broadest and most persuasive sense, feminist. Bold, innovative and bleakly comic.' Daily Telegraph

This is a rarely available opportunity to support and fund new, exciting theatre, and to create a new partnership between the UK and America. It is an investment which provides a legacy for future affiliations, partnership and connections.
This version of the Scottish play was met with critical acclaim and was nominated in four separate categories in the Scottish Critics' Awards. Theatre with such proud heritage deserves to be seen on stages the world over.
"It's exhilarating to watch a dramatist who's so confident with her material, especially when she springs surprises with such a familiar story."
What's On Stage

Many notable actors from David Tennant to Giles Terera, and Brian Cox have graced our stage at The Royal Lyceum, and we're excited to bring one of our most successful productions to our friends in America.

Donate Today and be part of history

We are delighted and grateful to receive your support. We have partnered with Chapel & York Foundation which enables tax effective giving from the USA. You can give generously knowing that your gift is tax deductible, ensuring that your generosity and kindness allows The Royal Lyceum to put your donation to the best use. Thank you.

Image gallery
Macbeth (an undoing) production images